Deer Creek Technologies is pleased to announce several new enhancements to our Early Warning System (EWS) software platform.  Based on customer feedback and requests, Grant and his team has added code that will allow EWS administrators to search for data in several different additional ways.  As information is added to EWS regarding employee conduct, charts and graphs begin to populate greatly assisting organization leaders in their efforts to recognize personnel and agency trends.  EWS will also highlight supervisor performance, and specific tasks that may need additional training and or policy review.  This information is only useful if it can be easily and quickly located and reviewed.  The new features have made this process very simple and understandable.
We have added a new sorting feature that allows EWS administrators to group employees, incidents, dispositions, dates and more, to make fast and simple reviews of past data entries.  We have also added a date range feature to narrow searches to a specific time period.  Lastly there is a new search box that will pull up information that you would like to review in an instant.  All of this has made EWS even more useful in many ways.  Our goal is to assist you in recognizing the important data you need to see, to help you make better decisions.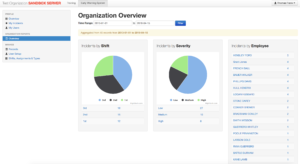 Deer Creek Technologies Early Warning System is highly customizable.  Organizations can add incident types, dispositions, work assignments, supervision and much more.  Our software allows agencies to grant supervisors permission to review the data entered for the employees they supervise.  This allows an organization to keep supervisors informed of incidents and employee conduct even if a work group has multiple or rotating supervisors.
As always we appreciate your feedback and we promise to listen and implement enhancements as we are able to, that will be beneficial to all Deer Creek Technologies customers.
Tom Frank  Co Founder